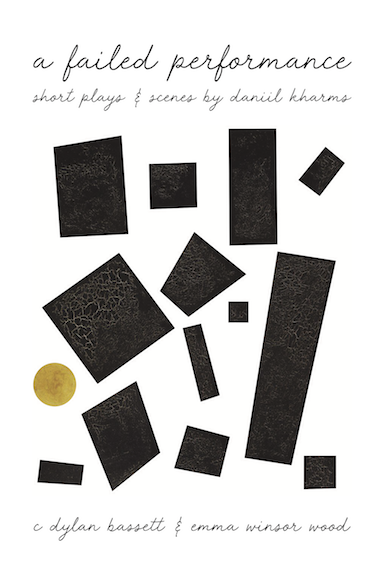 A Failed Performance
Short Plays & Scenes by Daniil Kharms
Translated by C Dylan Basset & Emma Winsor Wood
People disappear without explanation. The government takes hostages. War and death occur without reason or meaning. The cycle of poverty and deprivation proliferates. A Failed Performance is a collection of bizarre and darkly humorous plays and scenes from the Russian avant-garde writer Daniil Kharms. This collection—the first volume in English dedicated entirely to Kharms's dramatic works—includes his major stage plays Elizaveta Bam and Lapa as well as lesser-known sketches and hybrid poem-plays, most of which were never published or performed during his lifetime.
$19.95 Direct from Publisher
Hybrid, Avant-Garde, Translation
Cast: Kings of Breath Mints, Queens of Dog Hair, Etc.
Goodreads // Cover Art: "Suprematism" (1915) by Kazimir Malevich
Cover Design by Tyler Crumrine
REVIEWS:
PRAISE FOR A FAILED PERFORMANCE:

Kharms's writing for me is like molecules that combine and re-combust an expected time creating another world. That is on one hand real and on the other unreal. It is its duality that gives his brilliant text power.
Robert Wilson
award-winning director
Reading Kharms relieves us of the burden of making sense of the senseless. I lose my head reading these plays, but for this exact world, I'm better off without it. Maybe there'll never be a time not to read Kharms, but now is not one of those times.
Zachary Schomburg
poet & translator
It's hard to read these rescued short plays and scenes by Kharms and not think of his vulnerability as a writer living under Stalin and the irrational state. The date of each piece tells us the time running out on his destiny. He is brave; every mention of food is heartbreaking; you hope he was consoled by the sheer act of writing, by continuing to create for as long as he could. Russian culture and literary history thank the friend who saved his papers.
Darryl Pinckney
playwright & Kharms adapter