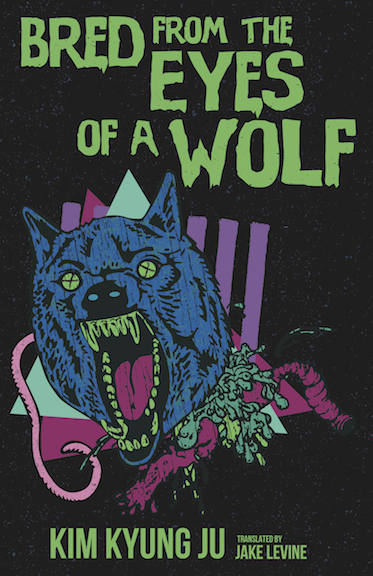 Bred from the Eyes of a Wolf
Kim Kyung Ju
Translated by Jake Levine
Equal parts poetry, drama, and sci-fi, award-winning poet Kim Kyung Ju's verse play Bred from the Eyes of a Wolf follows a post-apocalyptic family of wolves (indistinguishable from humans) forced to taxidermy their own cubs in order to survive. An allegory for the degraded social relations of the present, Kim Kyung Ju's all-too-familiar dystopia partitions the male body into monetized parts while the female body is valued only for its reproductive ability. Various mythologies and science fictions layer one over the other—from Oedipus to zombies to a cybernetic police state—in this stunning depiction of family, alienation, and contemporary capitalism, translated from Korean into English for the first time by frequent collaborator Jake Levine.
$12.95 $10.00 Direct from Publisher
Verse Play, Sci-Fi, Translation
Cast: 2W, 1M, 2A, 2 Dolls
Goodreads // Cover Design by Andrew Shuta
REVIEWS:
PRAISE FOR BRED FROM THE EYES OF A WOLF:

Bred from the Eyes of a Wolf is the wailing howl that has been growing and intensifying inside your bowels all your life, that guttural and primal call that holds inside it all of the simultaneous pains and triumphs of survival, the darkness that keeps coming, that gesture that forces us to remember the paradoxical shame of upright existence. Complex, essential, visceral, and animal, I couldn't put this book down.
Janice Lee
author of
The Sky Isn't Blue
Kim Kyung Ju writes with a wholly singular, libidinal poetic. Bred from the Eyes of a Wolf is a bestial theatrical fable that presents us with a truly memorable and vivid post-apocalyptic Oedipus. A play for now and for always.
Jordan Tannahill
author of
Declarations
This play bleeds. It's disturbing and beautiful, obscure and precise. It disorients without ever making you feel lost. There's a wilderness at the heart of every human relationship, and Kim Kyung Ju does more than show it to us. He asks us to live in it, to care for it, to listen closely when it howls.
Colin Winnette
author of
the Job of the Wasp
Kim Kyung Ju's breathtaking mother-son fairy tale is lyric, ribald, and new. This is an important contribution to contemporary mythology, here translated with indescribable, pulsating grace by Jake Levine.
Kate Bernheimer
author of
How a Mother Weaned Her Girl from Fairy Tales
Get ready to howl with the wolf-people as Kim Kyung Ju and Jake Levine transplant the Oedipus myth into a post-zombie apocalypse world. With this play Korean drama has entered the new millennium.
Bruce Fulton
translator & scholar, University of British Columbia