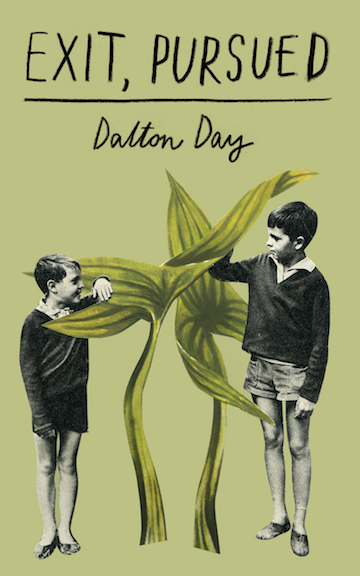 Exit, Pursued
Dalton Day
A one-act play in which apologies must be made to Chekhov. A one-act play in which there is a blueprint, & that blueprint is ignored entirely. A one-act play in which a decision is made, but it is unclear by or for whom. A one-act play in which the wind has the smallest hands, no, even smaller than that. Over the course of 41 one-act plays—most of them starring the characters ME and YOU—Dalton Day investigates grief, love, anxiety, and loss in this stunning collection of dramatic poetry.
Sold Out
$14.95 $12.00 Direct from Publisher
One-Act Plays, Poetry, Not-Quite-Comedy, Not-Quite-Tragedy
Cast: 2A, 2 Dogs, 1 Moon, 1 Audience
Goodreads // Cover Design by Emma Dajska
REVIEWS:
Monstering
Small Press Book Review
Beatrix Turán
PRAISE FOR EXIT, PURSUED:

"Dalton Day stole my Neo-Futurist heart. Don't just read this book. Stand and perform this book. Revel in its stage directions. Embody the densely packed dialogue. Imagine ME and YOU safe and huddled beneath the proscenium. Exit, Pursued is four-dimensional poetry, and its tiny plays are giant with impossibilities and contradictions."
Jeffrey Cranor
co-writer of
Welcome to Night Vale
"Take a program, take a seat, and prepare yourself for these sparkling and sublime plays. In Dalton Day's theater, however, you won't stay in the audience for long. These short pieces find you and bind antlers to your skull. Soon enough, you are in the woods."
Amelia Gray
author of
Gutshot
M: Oh thank god for this

M: lithe and electric and dangerous and funny

M: and beautiful collection of plays—

M: they will be produced and directed by

M: Edward Albee and Frank O'Hara and Dada in heaven, or

M: if you're lucky, in your own hometown.

M: Oh

M: Dalton Day!
Matthew Dickman & Michael Dickman
authors of
50 American Plays